This article aims to provide an engineering-based account of the British Post Office (BPO)'s Experimental Packet Switched Service (EPSS), so that you can understand why it was needed and how the network performed. We'll briefly look at the origins of the packet switching mechanism and then consider how this came to be adopted by the BPO as a means of addressing the needs of computer users. We'll then talk about the inception of the project, how this progressed and was overtaken by an international standards-based approach. Then we'll consider the nature of the Ferranti hardware and the nature of the packet-based protocol devised by the BPO. Finally, the interconnection of customer equipment to the network is described.
Conception
Packet switching was independently devised by Paul Baran in the USA and Donald Davies in the UK in the 1960s , as a means of efficiently interconnecting groups of computers without recourse to expensive meshes of private circuits. Baran worked for RAND in the US and adapted the store and forward messaging technique used in telegraph and telex systems, where message switching devices (nodes) temporarily stored a message, before passing it onto the next node in the chain connecting users, reducing attenuation in signal strength with transmission distance. His innovation was to segment messages into smaller sections and route these based on the headers added to each section. Smaller units of data would improve the queuing characteristics of the network, making recovery from errors more efficient and permitting faster transmission through use of multiple routes. The goal was to address defence requirements during the cold war, where survivability was vital, needing the nodes to be sited away from centres of population that could be military targets. The routing capabilities inherent in such a network would also provide alternative paths between network end points, reducing the impact of anticipated heavy damage.
Davies, a computer scientist at the National Physical Laboratory (NPL), was interested in interactive time sharing systems, which were compromised by inadequate data communications. He knew of message switching in the telegraph system and proposed dividing messages into standard sized packets and having a network of small computers to route packets based on information carried in packet headers. This technique, which he called packet switching, was expected to bring down costs.
In December 1965, Davies proposed that the BPO should build a prototype network; but NPL themselves only had resources to build a small prototype network called Mark 1, shown in figure 1. This was built between 1966 and 1969 and operational by 1970. It provided internal services across the NPL site using 768 kbit/s channels and a single packet switch based on a Honeywell DDP-516 minicomputer. Its development was described at a 1968 conference, two years before similar progress in the US was demonstrated.
Figure 1 Schematic of the NPL Mark 1
Davies publicised his ideas, in late 1965 and early 1966 and was made aware of Baran's work during a UK symposium. In 1967 he learnt of parallel work going on under the US Department of Defense (DoD) funded Advanced Research Project Agency (ARPA) banner. By the end of the 1960s ARPA had funded a variety of time-sharing computers located at universities and other research sites across the US and wanted to interconnect them. This project was known as ARPANET and Larry Roberts, who managed it, learned of Mark 1 at a 1967 symposium in Gatlinburg in the USA. He adopted Davies' term "packet switching" and some aspects of the NPL design, when considering the development of ARPANET, which was developed and built by consultancy Bolt, Beranek and Newman (BBN); the first 4 nodes being implemented in December 1969. Baran was recruited into ARPA in 1967.
It was Davies' work that would lead to the development of the Experimental Packet Switched Service (EPSS) by the BPO, as described in the next section.
The EPSS Project
Several BPO engineers attended a 1966 lecture by Davies, resulting in the BPO showing only mild interest. The British equipment manufacturers were much less interested; Baran and Roberts faced similar issues in the USA. Davies maintained good relationships with the BPO, who took an independent approach but were lukewarm at senior levels. The Real Time Club, driven by founder member Stanley Gill of Imperial College, exerted pressure on the BPO to improve its provision for data communications and in November 1969 submitted a proposal to the Postmaster General for an experimental network.
At this time, the BPO was managing the transition from being a Civil Service department to a nationalised industry. Data, although an increasing part of its business, was dwarfed by the growing and investment-hungry voice business, whose switching infrastructure was in need of expensive modernisation. The transition to a public corporation gave BPO staff more freedom to innovate, allowing them to work closely with NPL and others, whilst maintaining an independent approach.
Scantlebury, one of Davies' team at NPL, was seconded to the BPO in 1969, participating in a data communications study. He worked closely with M. A. Smith supervising four data communications-related research contracts. These fed into a study of an 18-node hypothetical model network in 1970-71, which recommended a network capable of operating in circuit-and packet switched modes. Gardner of the BPO was seconded to NPL, working on the development of a Mark II network.
Like most communications providers and in-line with the thinking of CCITT (Comité Consultatif International Téléphonique et Télégraphique – the international body responsible for telecommunications standards), the BPO favoured circuit switched data networks rather than packet switching but hedged their bets on both technologies. Their 1974 tender for a circuit switched network yielded responses that were not economically viable and development was delayed pending changes, known as System-X, to the switched telephone network. This gave more impetus to consideration of packet switching. By 1970 the BPO-T started to specify a packet switched network and in August 1973 an experimental packet network, known as EPSS, was approved. The UK was the first country to announce a public packet network.
M.A. Smith's team of BPO engineers designed a packet-switching protocol for EPSS from basic principles. The contract for development of the hardware and software for the service was placed with Ferranti in August 1973; the £750,000 deal covered 13 Argus 700E computers, each with 48 Kbytes of memory, to be housed in three sites. The use of a commercial processor was expected to allow an initial experimental capability to be available by the autumn of 1975, reducing the development work required.
The trial formally started in April 1977, using three Packet Switching Exchanges (PSEs) located in Glasgow, Manchester and London, with each PSE consisting of several fully-interconnected Packet-Switching Units (PSUs) and a Monitor and Control Point (MCP) for network control. The PSUs and MCPs were based on the Argus 700E, but the packet line cards for the customer interface were a bespoke development. Users were not billed for data usage, but tariffs were devised and dummy bills issued, the BPO reserving the right to charge in line with such tariffs. Prospective charges were higher than expected, potentially deterring customers from joining the service.
Early experience was obtained in 1974 from collaboration between NPL and the Computer Aided Design Centre, Cambridge, using EPSS protocols and a direct connection; there were 40 trial participants on the experimental network by 1st March 1976. As is typical of new and novel projects, Ferranti struggled to deliver the hardware and software for EPSS. The service initially had restricted hours with limited functionality and resilience, but scope and performance increased as Ferranti's software improved. For the initial release the average PSU failure rate was one fault every 90 minutes. By 25th April 1977, the network was sufficiently stable to allow customers full access; with Ferranti delivering the final software in 1978, enabling the release of test hardware, which was used to allow dual-processor hot-standby operation and greater resilience at the London PSE.
There were four phases of implementation:
Provisional service from November 1975;
The launched trial using evolving and reduced network equipment from April 1977;
Service using the final system software, from November 1977;
Provision of full network facilities in London from February 1978.
In 1974, representatives from Britain, France, Canada, and the USA met to discuss the standardisation of packet-switched networks, leading to the CCITT, in October 1976, agreeing Recommendation X.25 as the definition for a packet switching protocol. The experience with EPSS put the BPO in a strong position to influence the direction of this emerging international standard. A 1976 government inquiry, examining data networks and emphasising national economic and social factors, confirmed the importance of such a network. After two years deliberating, it recommended the development of a national packet switched network, to be provided by the BPO and compatible with international standards. BPO met this challenge, but were mandated to consider only tenders from British firms. Four tenders were considered, revealed by industry sources to be Plessey, Ferranti and two British software houses Logica and Leasco. Plessey, using equipment sourced from the US company Telenet, were the favourites, since the licensing agreement between the two companies allowed Plessey to incorporate Telenet hardware/software in its own solutions. Furthermore, Telenet were an offshoot of BBN and headed up by Larry Roberts and therefore had a strong track record in an emerging field. In addition, this was already being used by the BPO for the London node of an international link to the USA.
Having considered the project and its delivery, we now move onto consider the hardware foundations upon which the service was built.
The Ferranti hardware and software
Ferranti Argus 700 at TNMoC, photo Nigel Linge.
The Argus 700E used a 16 bit word and could address 64K words of memory and up to six I/O processors or channels. Each PSU comprised two processor shelves, each comprising a CPU board, four memory boards each housing 16k words of ferrite core memory and channel cards. They were initially provided with 48K of core store (later expanded to 64K), two fast multiplexor (TFX) channels, and a processor interconnection channel (PIC). Resilience could be achieved by deploying processors in live and standby pairs. The standby processor was continuously updated with system statistics and packet information, but was isolated from the line equipment by the on-line processor which, on failure, allowed it to takeover packet processing.
Hardware Architecture of the Ferranti Argus 700E
Three PSUs were installed in the London PSE, each with duplicated processors, for high availability. Two single processor PSU configurations were provided at Manchester and one in Glasgow, allowing the reliability and operational aspects of duplicated and non-duplicated systems to be compared. A fourth node at a second London site was used for billing and had a 10 Mbyte exchangeable hard disc drive, connecting to EPSS via a 2,400 bit/s packet link.
The three PSEs were connected by 48 kbit/s trunks (three from London to Manchester, two from Manchester to Glasgow and one from London to Glasgow). Packet mode customer connections were provided at 2400, 4800 and 48000 bit/s and character mode, typically at 110 or 300 bit/s. The connections available on the opening dates were as shown below:
| | | | |
| --- | --- | --- | --- |
| Terminal and computer connection speeds (bit/s) | London | Manchester | Glasgow |
| Character - Telegraph 50 | 6 | 4 | 4 |
| Character - Direct 110/300 | 12 | 5 | 5 |
| Character - Dial up modem 110/300 | 51 | 26 | 26 |
| Packet - 2400/4800 | 22 | 15 | 14 |
| Packet - 48000 | 6 | 6 | 6 |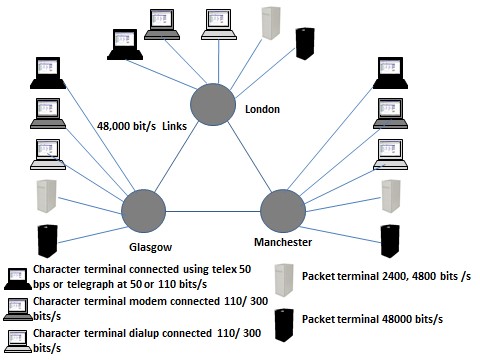 Figure 4 - EPSS topology
Character terminals used a program driven asynchronous character handling interface card capable of supporting speeds of 50 to 4,800 bit/s. All character line connection equipment was common and controlled by the current on-line processor.
Packet and character lines were connected to the machine using line interface cards forming a block of common interface equipment, which could be addressed by the currently on-line PSU. The line exchange capacity was shared between the PSUs, each of which addressed about a third of the available PSE line cards. Failure of one module did not result in the total loss of a service.
The packet line cards (PLC) were specifically developed for EPSS and supported circuits working full duplex synchronously at 2.4k, 4.8k, 9.6k or 48 kbit/s for customer packet terminal interfaces and inter-PSE trunks. The same logic was used for both purposes, but wired differently according to use. The PLCs interfaced to the processor using the TFX which was a microprogrammed module that scanned a small number of fast I/O devices and passed data between them and processor core store without processor intervention.
The links between PSUs in the same PSE or to the MCPs used a PIC to provide a memory to memory connection. The PIC was similar to the TFX and could multiplex up to eight full duplex lines at an aggregate throughput rate of 800 kbit/s, enabling processors to interconnect at 384 kbit/s. The MCP was based on a Ferranti Argus 700E with 24Kbyte of memory and had a slow printer, a visual display unit and a four deck cassette tape system.
The EPSS software was built on the Argus 700 operating system, which provided executive functions and Device Control Programs. The executive provided overall program control, interrupt handling, scheduling, memory allocation and the means of program interaction. The Device Control Programs (DCP) controlled access to peripherals. Its basic form is shown in figure 6.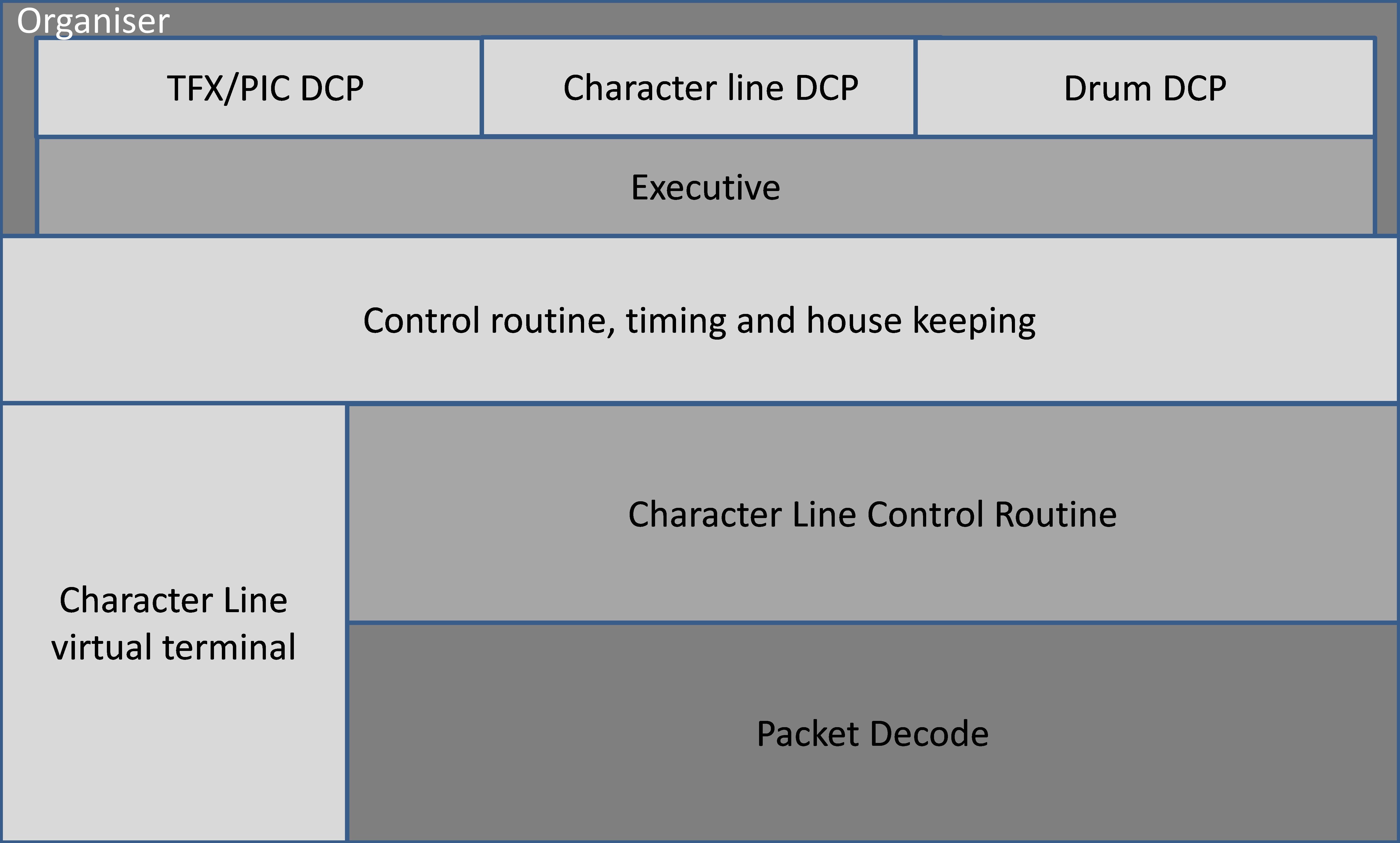 Figure 6 - Argus 700E software structure
Information flowed between software modules using EPSS formatted packets and call protocols, allowing some single PSU, single drum configurations to be supported by redirecting information to a slave drum at an alternative site via the network. Inter-processor communication did not use EPSS packet formats or call protocols. If a control computer failed, the standby computer took full control within 100 milliseconds of detecting the failure. Packets in transmission when the changeover occurred were lost and had to be retransmitted.
Programs were entered on a line by line basis at a terminal and editing was done using a command-line based text editor. Once a program was compiled, it was punched out to paper or Mylar tape, which was the most reliable means of storage. This could then be read back in to the computer. Due to the operating system not implementing the code and data separation capabilities inherent in the hardware, machine crashes were not uncommon and under such circumstances the core image had to be transferred to cassette tape for analysis by specialist BPO staff.
The EPSS Protocols
The BPO developed the EPSS protocols themselves and literature evidence shows minimal reference to work done elsewhere, which given the influence of Davies and NPL is surprising. The design was based on a 256 byte packet, comprising header, data and error-check-bit fields. Whilst employing many principles later adopted by the X.25 standard, EPSS was very different at the detailed level.
X.25 and EPSS both used the concept of virtual calls, with calls initiated by the source terminal and established if the destination and network verified that the call was legitimate and sufficient resources were available to support it. Following call establishment, the call was allocated a unique source label allowing the PSE to distinguish between simultaneous calls from a customer and allowing the called address to be omitted from subsequent packets on the customer to PSE link.
Only one packet could be transmitted on the link from the PSE to the receiving terminal before an acknowledgement was received, ensuring correct ordering of packets. The link protocol came in two forms; the standard and simplified form. The former optimised throughput, by returning a response to a packet received as quickly as possible by briefly interrupting any packet being transmitted. The delay characteristics of the link had to be monitored and measured, in order to achieve this. Once a packet was acknowledged the PSE checked the customer to PSE link sequence number, discarding any out-of-sequence packets.
The packet transmission procedures for inter-PSE traffic used a similar process to the simplified process, with the final exchange before delivery to the customer maintaining packet order. The inter-PSE packet transfer procedures are summarised in the diagram below: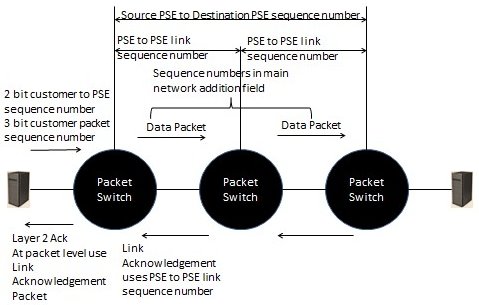 The packet acknowledgement mechanism
For asynchronous character-mode terminals, the packet assembly and disassembly facility was performed by virtual packet terminal (VPT) software in each PSE. This could form all the packet types necessary for normal transmission on behalf of the asynchronous terminals.
Interfacing Computers to EPSS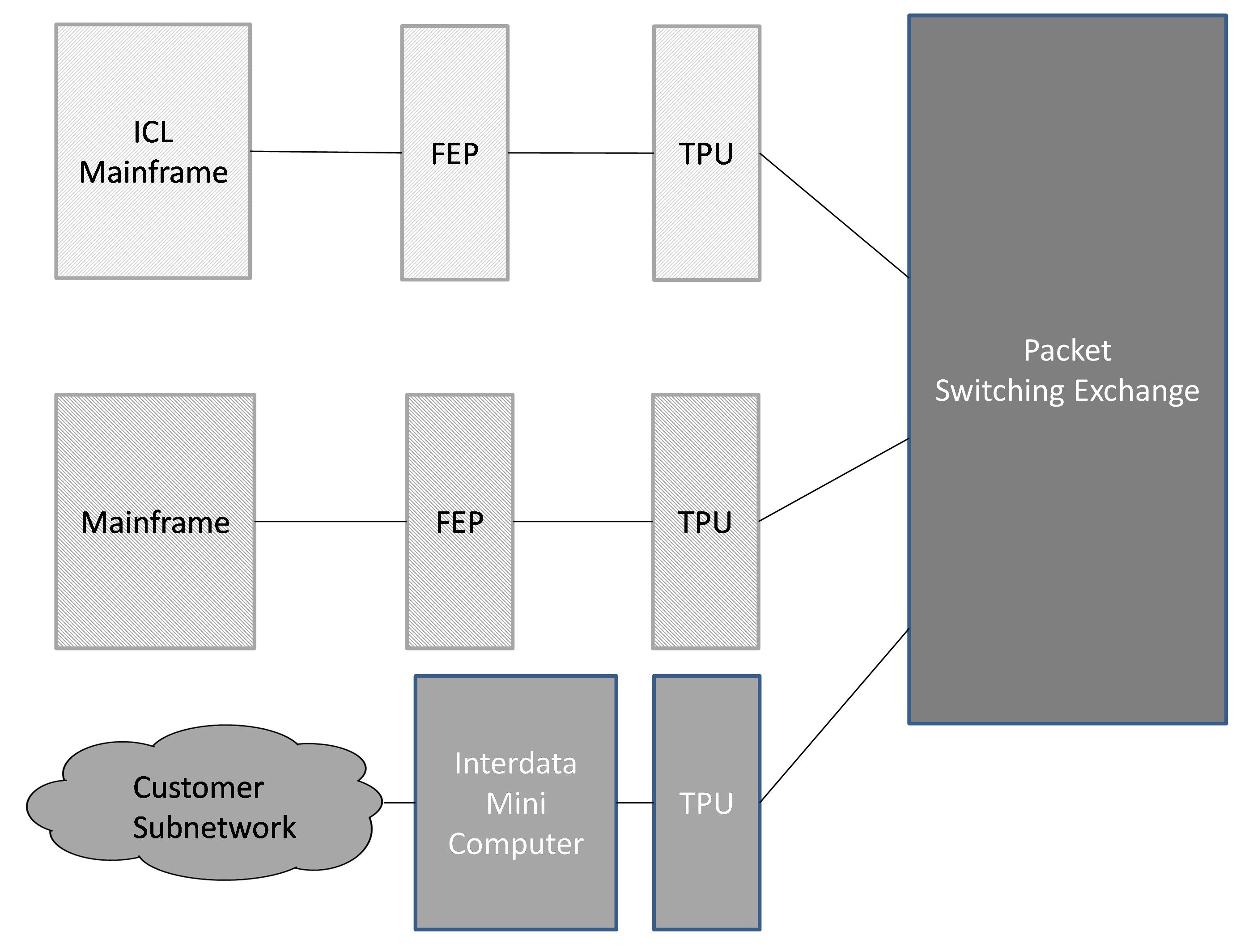 Figure 8 - Interfacing to the EPSS system
Having described the network it is important to understand how customer equipment interfaced to it. Study groups, comprising BPO personnel, customers and the computer industry specified a bridging protocol (designated level 4) which provided control over the functions of the packet layer (arguably a precursor of OSI level 4) and a set of high level protocols that covered specific applications such as file transfer, job transfer and character terminals. These protocols needed to be implemented on the customer's equipment. Three approaches were taken, with many computer manufacturers seeking to minimise the impact on their existing mainframe and front end processor (FEP) hardware and software. These are shown in figure 8 and are:
ICL implemented bridging and application software on their 7503 device and made the 7503 look like a cluster controller to the FEP.
Utilising a device known as the Terminal Protocol Unit (TPU), developed by Computer Engineering Limited and NPL, which implemented the packet protocol and layer 4. This left the FEP and mainframe to handle layer 5 and above.
Finally, an alternative was to use an Interdata 50 or GEC 2050 minicomputer to interface with the customer's own network infrastructure.
Conclusion
This paper has examined the development of the UK's first commercial packet switched service, which was a very early ancestor in the evolutionary path leading to today's information rich connected world. It has covered: the origins of the packet switching mechanism, its adoption by the BPO, the inception of the project, the emergence of an international standards-based approach, the implementation using Ferranti hardware, the packet-based protocol devised by the BPO and the interconnection of customer equipment. We have demonstrated why the network was needed and how the network performed. Despite the limitations of the equipment available and the time taken for administrations (the BPO in particular) to become interested in the technique, EPSS made a major contribution to establishing packet switching as a viable capability.
EPSS was a two year, fixed capacity trial, but generated a great deal of attention during its short life. The project had attracted attention from 31 organisations by June 1974, rising to 38 organisations by January 1975 and fluctuating between 34 and 43 during the life of the trial. Trialists were largely draw from universities, research establishments and a smaller number of commercial organisations. By the autumn of 1977 more than 75% of customer terminals had been connected successfully and 42 out of the total 47 packet ports were in use. The network was handling about 140,000 packets per day, but much of these arose from network trial activity and overall levels user traffic levels were lower than anticipated.
This work was carried out in an era when the PTOs operated a "permission to connect" policy, resulting in a considerable amount of effort from the BPO helping customers verify their protocol implementations. However collaboration was two-way with customers contributing strongly to the joint study groups which established the higher level protocols. This generated the expertise within both camps to take full advantage of the successor X.25 protocol, when it became available.