Very Early Programming at English Electric
Simon Lavington
---
By early 1955 four British manufacturers had delivered production computers. The companies and their products were:
Ferranti Ltd.: the Mark I and Mark I*;
Elliott Brothers Ltd.: the 402;
English Electric Ltd.: the DEUCE;
British Tabulating Machine Company (BTM): the HEC2M.
In addition, the Lyons catering company had built its own computer, LEO, which was applied to in-house applications. Upgraded versions were produced for sale on the open market from 1958.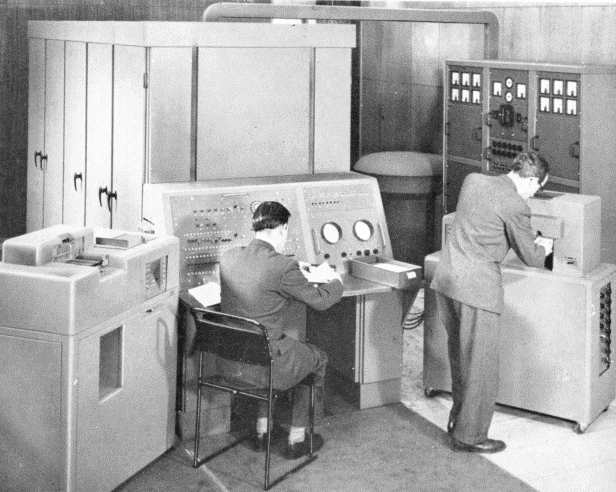 A DEUCE computer. Foreground (left-to-right): card reader, control desk, card punch. The "mushroom" to the right of the large central computer contains 12 mercury delay lines.
By 1955 the first tentative uses of general-purpose digital computers were mostly in science and engineering. The Cold War threatened. Government defence contracts formed an underlying theme to many end-users' applications.
To prepare for this, computer manufacturers set up their own programming teams. Each team's general brief encompassed three activities:
continued development of library programs and software utilities;
exploring new applications with a view to promoting computer sales;
providing initial programming help for new external customers.
By studying early programming teams, one can get a sense of how the job title "programmer" (rather than titles such as computing clerk or computer or operator) first emerged into the world outside wartime establishments and the research labs of academia. We take the English Electric DEUCE team as an example.
Section 1 reviews the early chronology of DEUCE in an attempt to fix the point when, and where, a specific programming team emerged. Regrettably, few English Electric company records have survived so details have had to be deduced indirectly from other source documents and from personal anecdotes. Some useful background references are given here.
In Sections 2 and 3 DEUCE's entry into the marketplace is described. For completeness, Section 4 gives a brief introduction to English Electric's London Computing Centre, which commenced operations right at the end of the 1950s. Finally, Section 5 summarises English Electric's early programming activity.
1. The chronology: from NPL to NRL
DEUCE was the fully-engineered production version of the Pilot ACE computer based on Alan Turing's design. Pilot ACE first ran a program on 10th May 1950 at the National Physical Laboratory (NPL). From late 1948 or early 1949 onwards, the English Electric Company (EE) had seconded a small number of staff to NPL to help with the computer's construction. Amongst the seconded EE staff was the engineer R. T. Clayden and the mathematician George T. Davis and four wiremen, all reporting to A. C. D. (Colin) Haley. Sir George Nelson, English Electric's Chairman, was a member of NPL's Executive Committee.
English Electric was a large, well-established company of 30,000 employees. They manufactured a wide range of products – everything from aeroplanes to locomotives, from control and instrumentation equipment to domestic appliances. In the 1950s EE had factories, laboratories and offices in several UK locations. The site chosen to develop DEUCE was the company's Nelson Research Laboratories (NRL) in Blackheath Lane, Stafford. DEUCE work was well under way by 1952 at NRL. Later, DEUCE production was moved to a new EE factory at Kidsgrove 25 miles north of Stafford, but NRL retained central control of DEUCE hardware and software technology.
P. J. (Jeremy) Walker, an engineer who joined English Electric in 1955 said in a 1995 retrospective talk that: "Colin Haley described the ACE pilot as a 'dog's breakfast' and from 1949 through to 1951/1952 they [NRL] set about engineering what was very much a 'laboratory model' into a more robust entity, to be known as DEUCE". It was at the Nelson Research Laboratories that the first DEUCE programming group emerged. Curiously, a self-styled first edition of the DEUCE programming manual that has come to light was not issued until 5th January 1955. Perhaps before this date, NRL programmers used interim documents or maybe annotated Pilot ACE manuals produced by NPL?
Early PILOT ACE library programs and other software utilities were written at NPL by mathematicians who included: Jim Wilkinson and Mike Woodger (both from 1946) and Betty Curtis, Gerry Alway and Donald Davies (who all joined in 1947). Much of the NPL software, and in particular the popular General Interpretive Program (GIP) and the Alphacode system which was a simple three-address autocode, were transferred directly to DEUCE. There were only a few very minor differences in the instruction sets of ACE and DEUCE.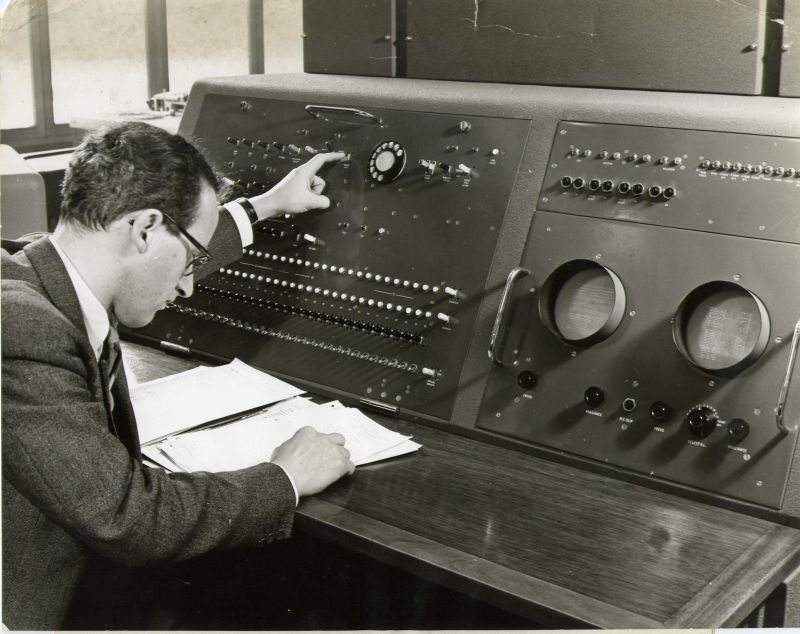 George Davis testing a DEUCE program.
To continue with the NRL story, there is an unattributed anecdote to the effect that: "George Davis helped with software and hardware development of Pilot ACE ... Davis also got permission from Colin Haley to go home for six weeks and write Pilot ACE Logic Design & Programming manuals ... As the design of DEUCE accelerated, Davis appointed himself a sort of Chief Technical Clerk, issuing successive drafts of the instruction code aimed at keeping the structure coherent contributing various snippets of logic design, etc." None of these early drafts, nor their dates, have yet come to light.
By about 1953 or 1954 the programming group at the Nelson Research Laboratory numbered approximately six people. In charge was Cliff Robinson, with Allan Gilmour his number two. Other team members in no particular order were Vic Price, Roger Smith (who edited DEUCE News and controlled the subroutine library), John Denison and George Davis. By 1957 the group had expanded to include Neville Hawkins, Peter Holland, Jim Lucking, David Ozanne, John Boothroyd and Mike Wetherfield. More programmers joined NRL later.
Besides retaining two early production DEUCE computers (see section 3 below) together with their maintenance engineers and a number of development engineers, the Nelson Research Laboratories housed all the people who served the growing number of DEUCE computers deployed elsewhere. This included "managers and secretarial staff, programmers, data preparation staff and also the ancillary Hollerith equipment for printing and copying the punched cards which were DEUCE's primary input/output medium. NRL was at the heart of English Electric's involvement with DEUCEs in the field".
In about 1960, many of the programmers and engineers at NRL were relocated to English Electric's Kidsgrove site. Meanwhile, DEUCE programming groups had developed at other English Electric laboratories. For example, a DEUCE was delivered to English Electric's research centre at Whetstone, south-east of Leicester, in February 1958. Garry Tee remembers that: "From 1958 to 1964 I was a mathematics and computing consultant to English Electric Company in the Mechanical Engineering Laboratory [MEL] of their very large research centre at Whetstone".
Another English Electric site to take delivery of a DEUCE was the company's Guided Weapons Division at Luton, where a DEUCE arrived in the summer of 1958. An analogue computer, LACE (Luton Analogue Computing Engine), had been developed at Luton between 1953 and 1956. The person in charge of the project is believed to have been the redoubtable engineer Dr Winifred Hackett. After graduating in September 1956, Harold Fineberg worked for a time in the Computing Department at Luton, under Winifred Hackett. Fineberg remembers that: "I learned how to use the mechanical calculators (Friden and Marchant come to mind) and it was while there that I heard about DEUCE. They even had a manual that described how to programme it and I knew that I had found my place. This would be sometime about 1957. The Luton DEUCE was delivered in 1958 and commissioned by Frank Thompson. I looked after the machine from 1958 until Luton closed in 1962". Fineberg's memories touch on the transition period from analogue and electro-mechanical computing to high-speed digital electronic computing. This transition was common in all aerospace companies in the 1950s.
2. DEUCE is readied for market
Back in 1952, English Electric had considered DEUCE primarily as a new and powerful tool to be used by the company's many research and development centres, along with a limited number of kindred outside establishments such as NPL and the Royal Aircraft Establishment (RAE) at Farnborough. It was only later that wider market opportunities came to prominence.
Jeremy Walker remembers: "It was realised that DEUCE was no longer a laboratory curiosity and that it should be sold commercially by EE. To this end, continued development and readying for production was transferred in 1954 to the fairly recently formed Industrial Electronics Department (IED) at Kidsgrove. Despite the re-engineering of the product that had taken place at NRL, it was hardly reliable and so a good deal of work was to be done on making it reliable and enhancing it as necessary, with all further development and output taking place from Kidsgrove".
In 1954 the Kidsgrove facility was not fully up and running. Construction at the Kidsgrove site had started in 1952. Parts of the works began to come on line during 1954. Bays 1 and 2 of the factory were the first to be completed. "Several laboratories and offices were set up in each Bay dealing with development and design of electronic instrumentation equipment, peripherals for DEUCE and magnetic amplifiers (magamps)... Also, production of LACE was transferred to Kidsgrove in 1954. Work then commenced in 1954 on Bay 3, which was built to accommodate a test facility for DEUCE mainframes and special ventilation ducting was needed to deal with the several kW of heat that each generated".
The first edition of DEUCE News was dated July 1955. It is tempting to deduce that summer 1955 marks the start of a viable external DEUCE end-user community. This is borne out by the delivery data.
3. Delivery of DEUCE computers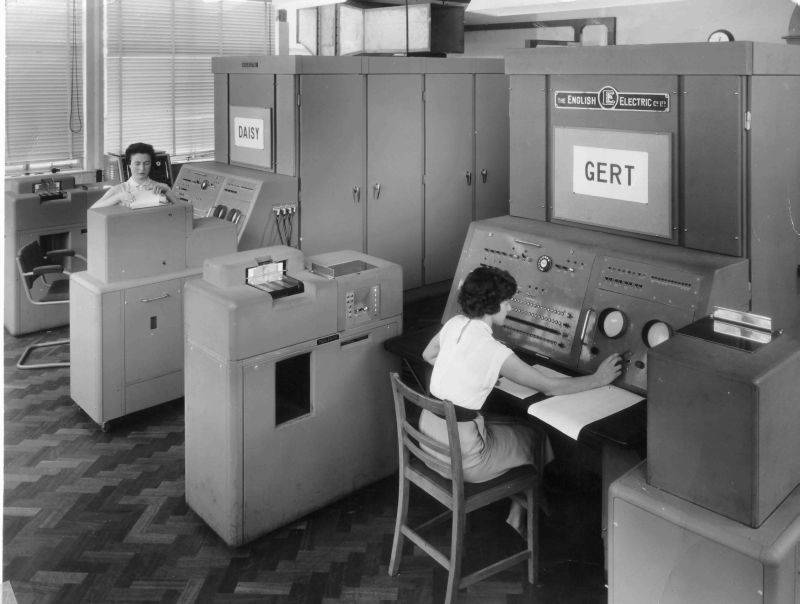 Two DEUCEs at RAE Farnborough: GERT (from May 1955) and DAISY (from Dec. 1956).
Production of DEUCE machines took place in two distinct phases. Firstly, seven DEUCEs were built at the Nelson Research Laboratories at Stafford, with the first machine completed in about 1952. It is likely that only five of these seven NRL DEUCEs left the factory floor. Two of the post-1952 NRL machines were probably pre-production prototypes. Mike Wetherfield, who joined NRL in the second half of 1957, remembers that: "During the time I was at NRL, Colin Haley and Ray Ellison sat in the machine room with, and maintained, the two DEUCEs; one took one's hardware problems to them."
The Computer Conservation Society's records show that, of the seven DEUCEs built at NRL, the following five complete systems were delivered to favoured end-users:
EE NRL in Feb. 1955;
NPL Teddington in May 1955;
RAE Farnborough in May 1955
and probably one each to EE Marconi House, Strand, London and to EE Main Works, Stafford – though the precise delivery dates for the last two have not come to light. More information on the Marconi House delivery and the associated Computing Service is given below in Section 4.
The first DEUCE to have been built at English Electric's Kidsgrove factory is possibly the one that was delivered to the Bristol Aeroplane Company at Filton, Bristol, in June 1956. 27 more machines followed, making a grand total of about 33 DEUCE computers to have been delivered from either NRL or Kidsgrove in the period from 1952 to 1960. There is some confusion about the precise number, since definitive company records have not survived and some machines were passed from an initial site to another site later on. Nevertheless, in terms of the UK's scientific and engineering community's contemporary demand for powerful computers, 33 computers represented a significant slice of the market.
4. The DEUCE Computing Service in London
DEUCE at the EE London Computer Centre. From right to left. John Woolger, Vic Price, three unidentified women.
The person chosen to run the Computing Service was George Davis. It is remembered that George Davis (GD): "was summoned to see the dreaded J.K. Brown [the Nelson Research Lab's Director] at Stafford and told to set up and run a DEUCE Computing Service at English Electric HQ, Marconi House in the Strand, as much as anything so that EE Chairman Sir George Nelson could show it off to his important visitors. So lone wolf maverick GD had to become an organisation man! Staff were recruited, many becoming lifetime friends. Vic Price, Chris Woodall, Peter Landin, Ron Eitel, Jack Richardson and John Woolger initially, later Doug Flower, Audrey Birchmore, Anne Stower (now Woodall), Peter Docherty and others. The London DEUCE was a year late, and the team were kindly housed by the National Physical Laboratory [at Teddington] while Ron, Jack & GD maintained the NPL DEUCE". The names of other programmers at Marconi House may have included Janet Skinner (neé Porteous) and Jean Dace (neé Thomas).
It is deduced that the London Computing Service did not get really under way until about 1960.
5. Summary
The impression is that, at least up until the end of 1954, computing activity at both of English Electric's Nelson Research Laboratories and Kidsgrove establishments had an engineering focus. There may have been little need to create a specific software team. By the time a formalised team was established at NRL – perhaps some time in late 1954? – it numbered about six people. Specific names that have come to light are: Cliff Robinson, Allan Gilmour, Vic Price, Roger Smith, John Denison and George Davis. This group initially supported English Electric mathematicians who utilised DEUCE within other EE factories and laboratories. From mid-1956 DEUCE machines were being installed more widely, with a consequential expansion of the external user community. English Electric's own programmer population expanded accordingly. For example, by about 1960 a dozen programmers were employed at the company's Computing Service at Marconi House in the Strand. Also, by that time, a number of other English Electric computers such as the KDF9 were being designed and the company was well-established as a computer manufacturer.